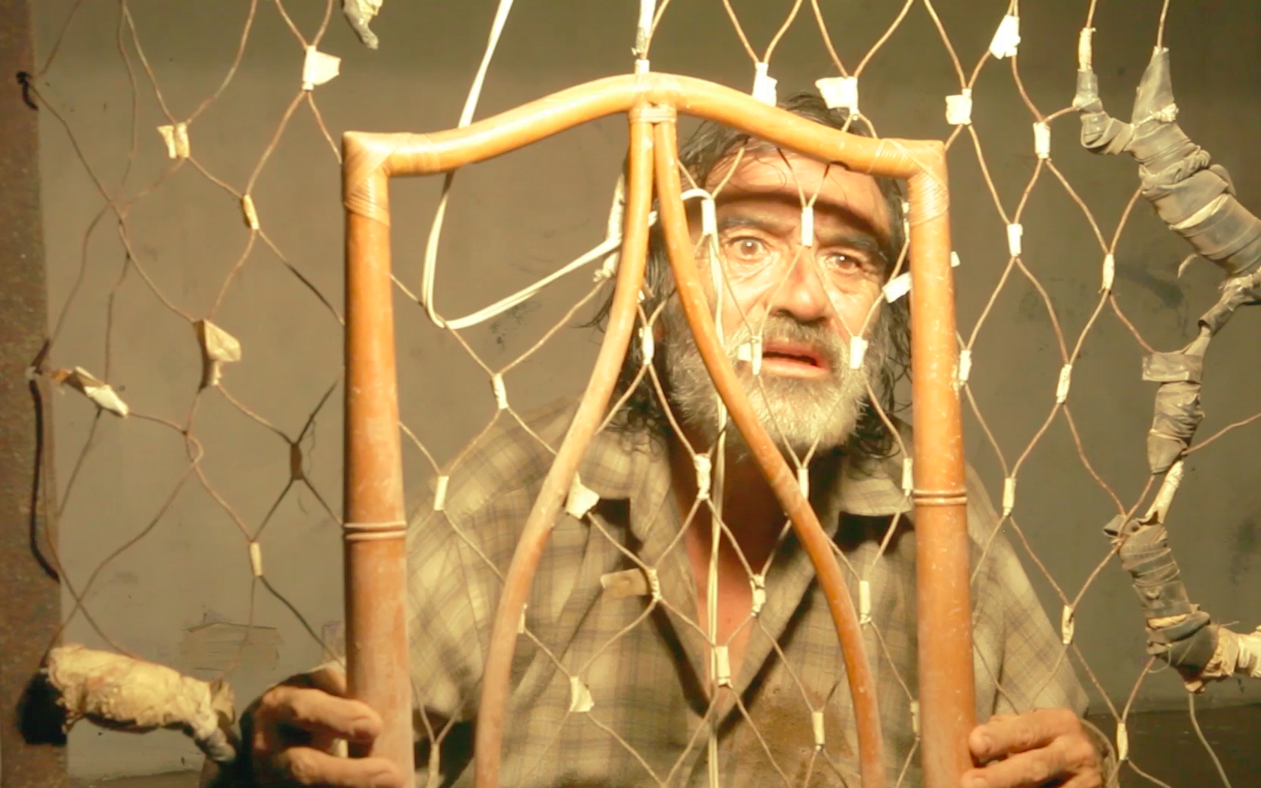 Wandering and Sleeplessness is a performance that was first staged by Lucho Ramírez in 1981. Born and raised in the town of Yungay, Lucho is one of the founders of experimental Peruvian theatre group, Cuatrotablas, who were highly influenced by Barba and Grotowski. Lucho was sixteen when the 1970 earthquake struck Peru. On the night before the disaster, he left his home on Jirón Bolognesi to visit relatives in Lima. His uncle owned a television set, and had invited him to watch the World Cup match between Mexico and USSR. Lucho was excited. Less than two hours after the whistle had blown on the goalless game, Yungay was buried in a landslide. Miraculously, his parents and siblings survived. But overnight, Lucho had lost his friends, his home, and his childhood.
Lucho conceived of Wandering and Sleeplessness a decade after his disaster, when living in Lima in his mid twenties. He had started work on another piece, called Drums (Tambores), but the play that would become Wandering and Sleeplessness had taken hold of his consciousness. It wouldn't let him rest until it was completed. In this work, we gain access to Lucho's fears — his vivid, hypnagogic nightmares — as they transport him, in the dark, lonely, hours, back to Yungay on that fateful afternoon of the landslide.
We visit the bedroom of his destroyed family home; his old school, Santa Inés; the foothills of the Huascarán; the swampy landscape of the disaster zone. We accompany Lucho as he searches for lost family, meets with ghosts, and encounters Death himself on a terrifying journey to the afterlife. We watch as he becomes the mountain. There are also deviations to the issues that concerns the twenty-six year old Lucho, including his national identity, Peru's colonial history, and the burial of its pre-Hispanic past beneath strata of mud and conflict.
Wandering and Sleeplessness premiered on a tour that visited cities in Europe, and Central and South America. It formed part of the inaugural London International Festival of Theatre at Institute of Contemporary Arts. It also toured venues in Avignon, Cambrils, Hamburg, Rome, Monterrey, and Lima, to excellent critical reviews. To commemorate the fiftieth anniversary of the landslide, with the support of the University of Leeds, Lucho has recreated the play for contemporary audiences with cinematographer Beto Benítes. The play was staged in Lima for intimate audiences in January 2021. A recording of the play was premiered to coincide with the fifty-first anniversary of the tragedy.
You can watch Wandering and Sleeplessness here.